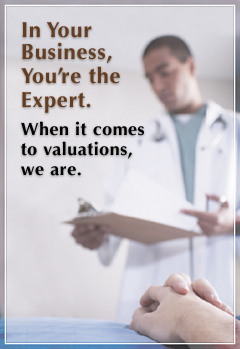 Mr. Flanagan completed a valuation of small business on behalf of my client in a divorce action. He provided invaluable assistance and identified ways we could challenge the opposing expert's opinions and conclusions.

Prepared to Do Two Critical Jobs for You
Circumference understands when you hire us we have two jobs to do. The first is to prepare a technically first-rate valuation that accurately captures the value of the business and meets all reporting requirements. Our second job is perhaps more important. Most clients have never had their businesses professionally valued before so we must be educators too. We ensure our clients understand how the resulting number was determined and what assumptions were made to arrive at that conclusion.
Whether the goal is to buy or sell a business, form the foundation for an estate plan or pass the business on to a family member, a valuation is a critical first step. Circumference understands a practice from the clinical side AND the business side.
Expertise to Provide You with Excellent Valuations

Circumference founder Terry Flanagan has worked in the health care field for 28 years. He has operated his own clinic and provided care in a multi-disciplinary primary care setting. His business experience includes valuing professional practices, small businesses and lower middle market businesses ($50,000 to $15 million in sales) for buy/sell, gift/estate tax and marital dissolution reasons.
Terry holds master's degrees in Public Health, Applied Science and Business Administration with a focus in health care finance (MBA). He is an accredited valuation analyst (AVA) for business valuation through the National Association of Certified Valuation Analysts (NACVA) and a certified business appraiser (CBA) through the Institute of Business Appraisers (IBA). Terry holds the prestigious Certified Business Intermediary (CBI) designation through the International Business Brokers Association. He is a member of Affiliated Healthcare Consultants and is a licensed real estate agent in Florida.